This is my Studio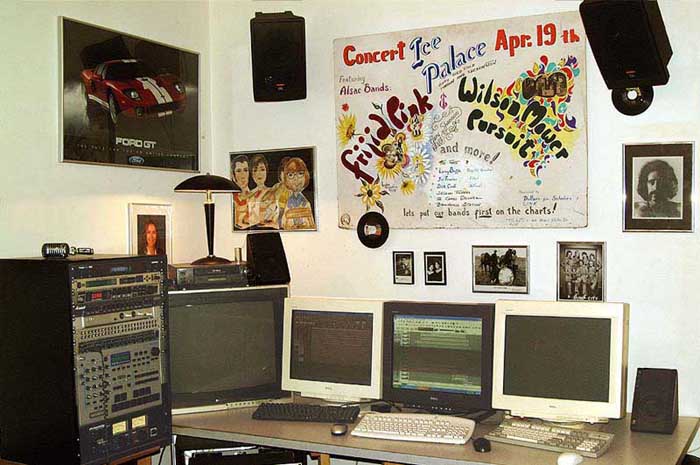 The workstation I use is equipped with an Echo Layla sound card and NTrack Studio software. I use 2 DELL 21" monitors hooked up as one large screen. The computer monitor on the right is for creating artwork and general computer work. My audio monitors include 2 JBL Control 5 speakers, Control 5 Sub, 2 Stereo floor monitirs, and 2 AR PP's.



A view into the studio from my living room.


From the door we just walked through. H


This safe room has 2 heavy solid doors with metal frames. The walls have metal studs every 12 inches.om i


The Ceilings are 13.5 feet high and the walls are double stuffed with R19 between studs.


The Recording Rack - Top to bottom:
Samson PS, Digital 30 Para Eq, VPro Guitar processor, Marshall Tube Pre, Echo Layla Interface, Patch Bay, Headphone amp, E-MU PX7, Pyramid 1000 watt amp


This is my groovy Piano . It's a 1950's Grinnell Bros. upright. It's been in the family since it was new. I had it reconditioned in '04. It needs tuning again. Florida humidity is tough on stringed, wooden, and even percussion instruments. I hear my drum skins snapping when ever I open a window.


To the right, a door into my kitchen.


And that's the studio!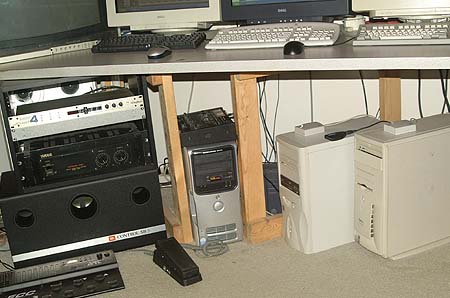 This is all of my gear for recording. The rack sitting on the sub woffer is
my "live" rack. Top to bottom: Digitech MSP4, a 5 fan rack cooler,and a Yamaha P2100 Stereo amp

Albert still plays drums and has a CD. You can hear it from the main menu.